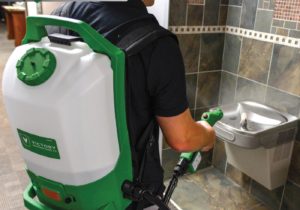 Let's face it. With the new decade has come a lot of changes in day-to-day life. While the world is a much different place than it was in 2019, not all the changes are bad ones. Keeping your facilities germ-free is a good thing, and modern technology has made it easier than ever to put germs and viruses in their place.  This is why we provide state of the art and affordable disinfecting services for residential and commercial customers in Salt Lake City, Utah.
Viruses Don't Die On Their Own
Viruses like COVID-19 can't actually die. They are never alive to begin with. Rather, they contain genetic instructions and rely on living organisms to infiltrate their DNA. Since you can't kill a virus, it's tricky to eradicate. Just like you can't defeat it with antibiotics, many cleaners on the market also miss the mark. If it says it kills 99.9% of germs, remember, this doesn't include viruses. 
That's where our staff comes in. We use specialized cleaning agents geared toward eradicating not just germs and bacteria but viruses, too. Solutions like electrostatic disinfection keep your facilities safe and provide the peace-of-mind you need to conduct business. When you rely on our professional disinfecting service Utah, we can offer:
Up to a 50% reduction in the time needed to properly disinfect every nook and cranny of your office space

Reduced costs associated with the spread of illness

Improved control of illness stemming from both bacteria and viruses including flu, COVID-19, and more

Peace-of-mind in knowing all chemicals used are applied by skilled professionals who know how to prevent overuse
More Than Just Cleaning
Cleaning provides an aesthetic reward. Disinfecting goes the extra mile and is intended to keep everyone who steps foot in your facilities safer and healthier. Types of facilities we disinfect :
Commercial Spaces
Warehouses and Equipment
Car Dealerships
Restaurants/Bars
Gyms/Spas
Schools
Hospitals
Film & TV Sites/Sets
Event Spaces
Private Homes
Real Estate Showings
And More!
We all have to do our part to keep our economy strong while mitigating unintended health risks, making the investment in expert disinfecting service Utah one that will pay back for generations to come. 
Call us today for a FREE disinfecting estimate!